During World Malaria Month, Peace Corps Volunteers partnered with community health workers and other counterparts in the health and education sector to conduct innovative and impactful malaria prevention social behavior change (SBC) activities throughout Rwanda.
The Vision
This year's theme was empowerment and partnership. When community health workers, teachers, health center staff and other community members closely partner with Peace Corps Volunteers and take on leadership roles in these programs, the impact of those activities is exponentially increased.
The Results
During a one month period from April 25-May 25, Peace Corps Volunteers and their counterparts reached over 10,000 partners and community members, and helped train 75 service providers in malaria prevention work.
In the Eastern province, Peace Corps Volunteers in the East reached over 5,000 community members as they conducted SBC activities and other malaria prevention programs.
Nearly 40 activities were completed during the month of May, where 12+ Peace Corps volunteers collaborated with their counterparts and other community members to teach about malaria risk and transmission, as well as prevention strategies.
"Malaria is Bad: Malaria nimbi"
Lauren conducted malaria educational activities that reached hundreds of students at the primary level. She used flipcharts and other teaching aides, in collaboration with neighbouring volunteers and counterparts, to help demonstrate the value of malaria prevention activities such as closing windows at night, and removing standing water around the home. She even taught the students a malaria prevention song, which was an immediate hit.
"Malaria, malaria, is bad, is bad, use your net, use your net…" could be heard from any corner of Lauren's school compound.
An Unexpected Scope: Makenzie's Story
"On Saturday I had a little over 100 students show up and 4 counterparts to help the 7 volunteers including myself. I was actually a little disappointed at first that I wasn't able to reach more people but then the voting for cell representatives actually happened at my school so all the adult leaders in the community saw me and my friends teaching about malaria. It was an excellent opportunity for some people who are never around me to see me interact with my students and have a great time outside of school hours. And the students who did come ranged from P4-S3 so they can talk about it with their friends hopefully and spread the word even wider." —PCV Makenzie
Malaria Day Camps
STOMP coordinator and PCV Maggie orchestrated malaria "carnivals" where students were brought together to play games while also being encouraged and trained in malaria prevention strategies. These activities had a very wide reach, with participation from many different volunteers and counterparts throughout the Eastern Province.
In the Southern Province, Peace Corps Volunteers conducted malaria prevention work at health centers, including the continuation of a malaria prevention calendar program created by the STOMP team.
Activities included community group outreach, and over 100 children, women and men were reached through these 30 days of activities.
Malaria Community Group Discussions: Malaria Training with Mamas
Engaging community members in malaria prevention discussions was a crucial and impactful role of Peace Corps Volunteers during World Malaria Month. These activities will continue in different capacities throughout the year.
PCV Morgan spent time engaging with her community in this capacity, working with mothers in her community and emphasizing the risk of malaria for pregnant mothers.
Morgan conducted a ToT in preparation for World Malaria Month. She. and her counterpart covered topics including the origin of malaria, symptoms, prevention methods, and malaria treatment.
PCV Hannah and PCV Matt in the South also used malaria behavior change calendars and walked 12 students three a three day program focused around being leaders of malaria prevention in their respective communities.
For PCV and STOMP Coordinator Niesha, World Malaria Month is a time to champion community leaders. Over the last couple months, she did just that.
PCV Niesha finished her service this month; she was instrumental in countless malaria activities and stepped into a crucial role on the STOMP team. She helped implement malaria prevention programs, using calendars as a behavior change agent.
Who helped her implement it? Not just the nurses.
Sibomana, the cleaner at the health center asked Niesha if he could get involved, and she eagerly accepted. Since then, Sibomana has led malaria prevention sessions with Niesha and has demonstrated himself to be an inspiring and credible facilitator at the community level. The best part about Sibomana is, like community health workers, he is a member of the community, and the trust he holds with them is a powerful tool and benefit for these prevention programs.
In the Western province, PCV and STOMP coordinator Gabby was able to conduct a wide range of activities with the objective of long term and sustiainable impact.
"I taught my primary English club a general lesson about the serious consequences of malaria, what it is, and how to prevent it. After the lesson, we played true or false and highlighted key words in English such as mosquito, net, disease, parasite, patients, healthy, unhealthy, sick, prevention, and other related terms. We then played a game of malaria tag, using the words we learned. I assigned children to be the related terms they were taught. Those who were tagged by the students who were assigned to be mosquitos were sick, had the disease, and unhealthy. Those who weren't tagged, able to be by assigned students who symbolized mosquito nets were preventing malaria and healthy."
Gabby and Kyla, both STOMP coordinators for the Western Province conducted multiple malaria prevention activities within secondary clubs:
"On the first club meeting, we did an introduction about malaria, check for understanding on the disease and prevention methods, and a lesson about net repair. During the second meeting, we did a review of what we talked about during the previous meeting. Then, we talked about personal experiences with malaria and how the students believe malaria can affect the development of Rwanda. I suggested creating a song or doing something creative to show that they understood all of the topics we discussed. During the third meeting, the students facilitated a discussion about community education. They then surprised me with a song that summarized all the things they learned. During the fourth meeting, some of the students performed the same song and conversed about malaria with other students who were available outside of the club participants."
In the Northern Province, PCVs Katie and Lily conducted a session on malaria mindsets and risk—they also expanded their reach by posting about malaria on social media, a medium that is becoming increasingly important.
"Malaria in the northern mountains presents a unique set of challenges to disease control measures in Rwanda. While the disease is often more severe when contracted by people living at higher altitudes, the lower infection rates frequently create communities who fail to see malaria as a priority. As Peace Corps volunteers in this region it's our job to support health professionals and community leaders as they work change the narrative around malaria in the north and help the country obtain its goal of becoming a Malaria free nation by 2030, its a job I'm excited to take on and an goal I'm proud to support."
Social Media: The Next Frontier
Social media has become a powerful tool for messaging surrounding disease prevention, especially with the rise of Whats App and smartphones in Rwanda. Though many community members in the rural areas still don't have access to smart phones, nurses and teachers at schools and health centers do, and are constantly sharing videos/photos/messages in their own networks across Rwanda.
Mediums for malaria prevention messaging like Instagram and Whats App are becoming increasingly relevant in Rwanda and around the globe with a wide scope that can reach people still lacking in knowledge of malaria risk and how to prevent it. Below is an example from STOMP coordinator Katie of how one can send an impactful message simply by utilizing an Instagram Story.
Peace Corps Volunteers within the STOMPing Out Malaria Initative also collaborated on a Medium article, a chance to champion the work of community health workers and their role in malaria prevention.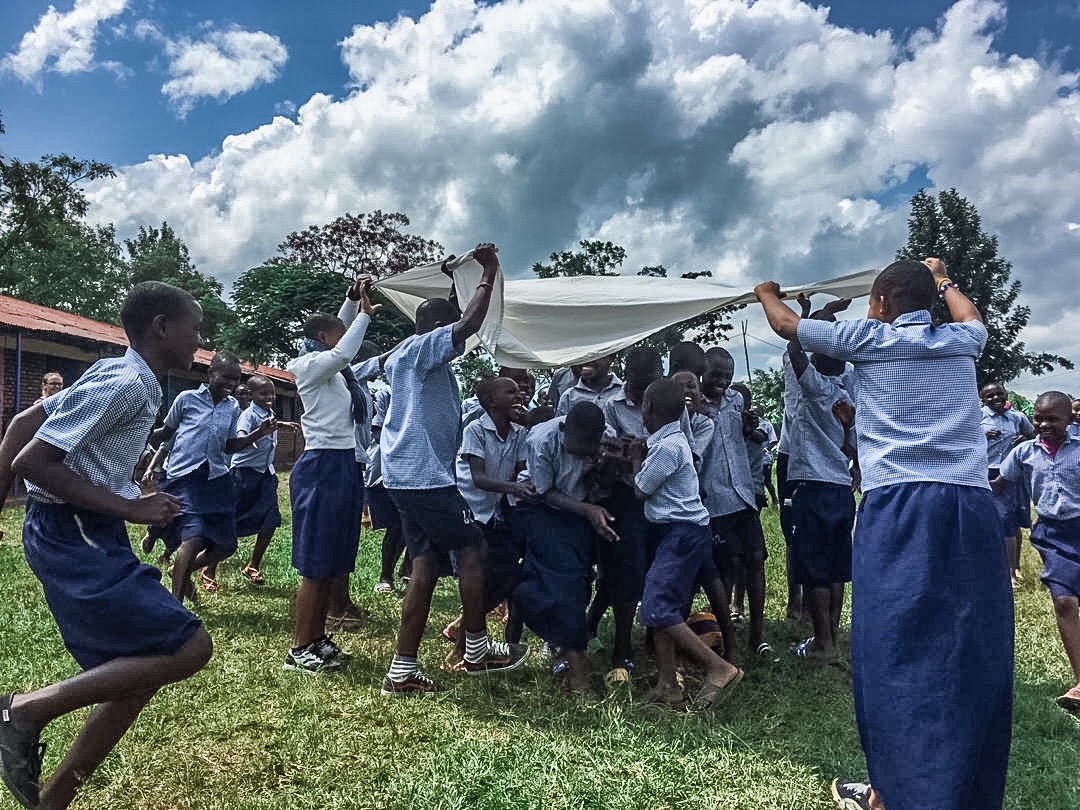 Together we can end malaria.
2019 World Malaria Month: STOMPing Out Malaria in Rwanda